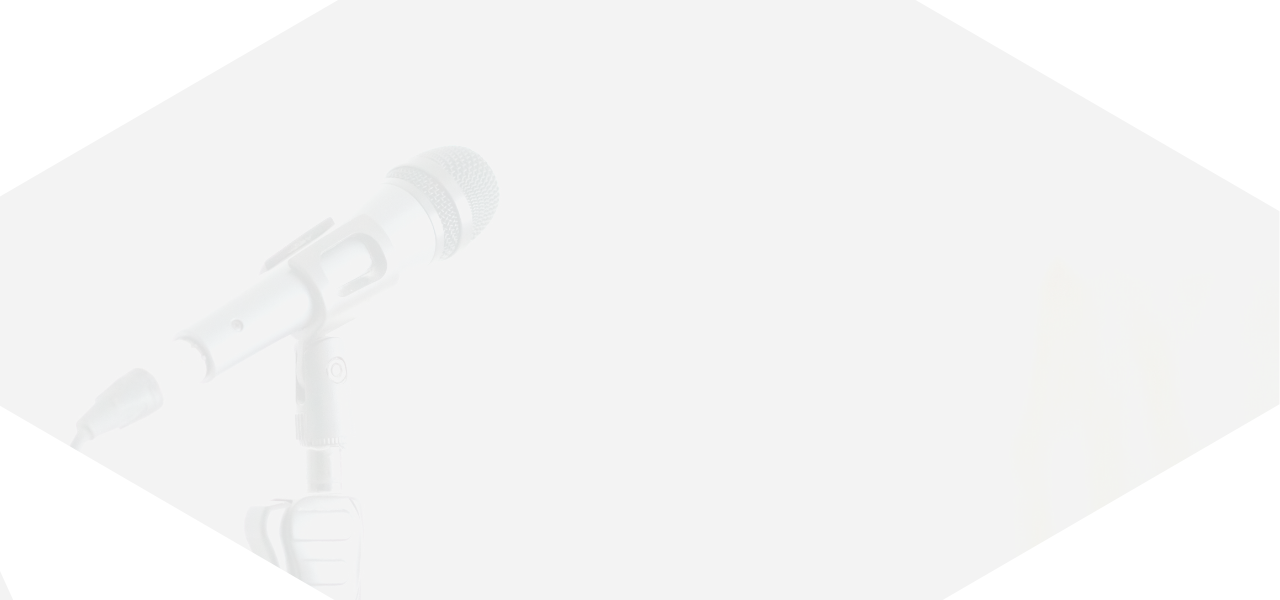 Data Storyteller's Academy
Community + Course
Are you a tech professional who feels anxiety when it comes to speaking? And is unsure how to approach data storytelling?
Learning communication should NEVER feel lonely
In this program, you'll learn alongside a group of fellow professionals, all with the same goal as you:
To finally speak confidently
This is the place to go from:
Unconfident Speaker ➥ Expert Storyteller
The Course:
16 Lessons, with 2-3 hour time commitment per week for all coursework
The Community:
A safe and supportive place to receive personalized feedback
The Live Events:
2X monthly opportunities to answer questions and practice new skills together
This is what others say: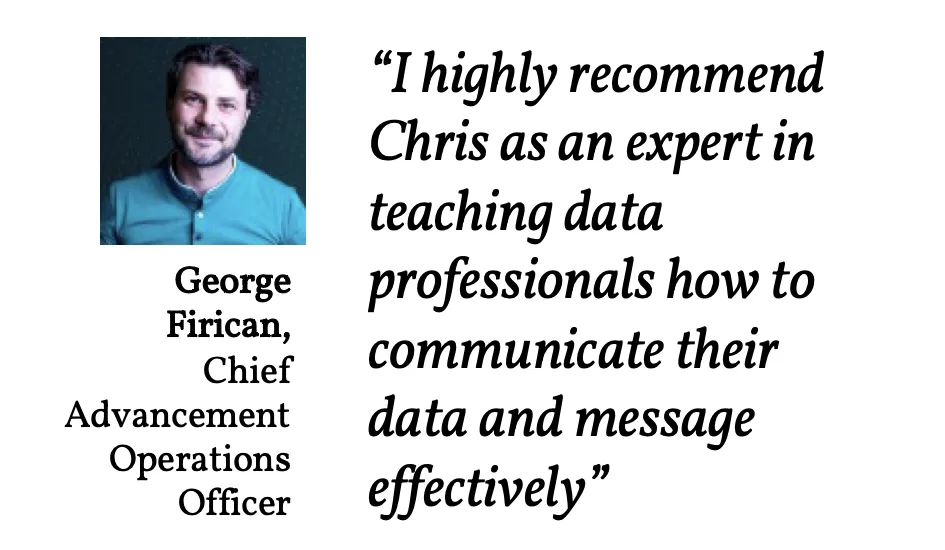 Viktoria B. (Education Manager)
"The types of professional skills are highly important, yet their importance is usually overlooked until it is time to face the reality. I was spending considerable amount of time looking for public speaking trainings, events, or workshops that would provide me with an opportunity both to develop and to practice my storytelling skills, as I was struggling in my attempts to deliver a concise and meaningful story while presenting and reporting data to stakeholders.
I was happy and relieved when I joined the data storytelling course that Christopher offers! One will have to work a lot in his class, but the outcomes are worth it! It takes time and effort to develop public speaking/data presentation skills: Christopher's course is very well structured and paced, so that busy professionals are never rushed to develop and to present their content. Chris is a very knowledgeable instructor and a data analyst who is patient and supportive; he always provides feedback on every training presentation that his students create, and his course is a true community of like-minded professionals. My work in this course has allowed me to be confident in my ability to create a presentation and to tell my data story. I highly recommend this course"
Anthony L. (Data Scientist)
"I followed Chris' courses on communication for data professional. Here is why you should embark on this journey if you are like I was: unsure on how to convey insights.
Despite being a former teacher in sciences at college level, speaking publivly was not a real problem to me. However, convincing stakeholders to take action was way harder than I anticipated. I kept talking fast to impress, I could not catch the bigger picture and did not really know how to organize my thoughts.
After a couple of weeks into Chris' classes, his tips and tricks put me back on tracks. His video are short and efficient : straight to the point could be his motto. The one-pager of most important points are always close to me. Another thing that stroke me is how he applies his tips in his class. That makes everything really consistent, and is the first example of hiw I should do.
Now I am sure of my strength. I feel more impact when I speak during meetings : people look more convinced about what I recommend. I even got to start mentoring one person at work.
Long story short, I fully recommend Chris' class if you want to improve in data communication. His kindness makes you feel at home from the start, his teaching ability is off the charts and his knowledge is invaluable. Stop thinking and take the step!"
This is what you learn:
Module 1: Develop Your Confidence
You'll be able to Sound and Feel more Confident through:
✓ Vocal Techniques
✓ Mindset Shifts
✓ Speaking Frameworks
Module 2: Tell A Compelling Data Story
You'll deliver a Wow Factor with Your Data Stories through:
✓ A Simple, Time-Tested Narrative
Module 3: Structure an Impactful Presentation
You'll be able to Reliably Give Presentations of any Length through:
✓ Formulas for Slide Design
✓ Formulas for Presentation Construction
Module 4: Craft Effective Visualizations
You'll know how to design clear charts that drive action through:
✓ In-Depth Case Studies of Psychological Principles
Meet Your Instructor: Chris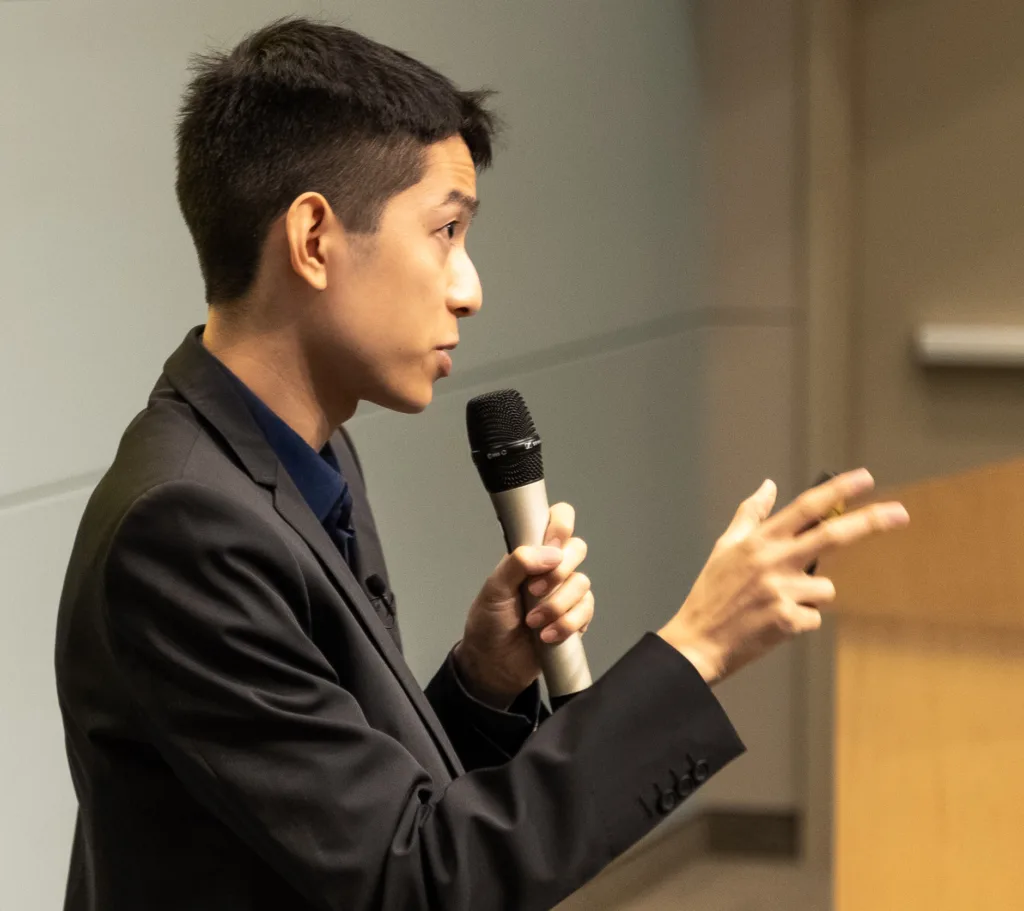 While working in the data industry, I realized that technical training is frequently abundant. But soft skills training is too often overlooked despite being a critical part of the value chain.
---
I launched the Data Storyteller's Academy to offer specialized communication training, equipping every single technical professional with the tools and confidence to secure the promotional opportunities they deserve.
Frequently Asked Questions:
I work full-time. What is the expected time commitment?
The course requires a 2-3 hour time commitment each week and lasts a total of 8 weeks
Will I receive a certificate upon completion?
Yes! To get your course certificate you need to complete at least 6 of the 8 assignments, with the eighth assignment (the final presentation) being mandatory
Is there a strict start and end date?
The next cohort starts on January 11, with an end date 8 weeks after.
If I'm unable to watch all the recordings during the 8 weeks, will they be available after the course ends?
Yes! You will be given access to all lesson recordings
If I'm unable to finish all the assignments during the 8 weeks, but still want feedback from you, what should I do?
If you're interested in receiving feedback on your assignments after the course ends, I will give you a discount on 1:1 sessions with me.
Can I pay all at once instead of monthly?
Yes! There are two options available: a one-time payment of $299 or 3 monthly installments of $116.
Can I get reimbursed by my company?
I recommend discussing with your manager to see if it can be covered by your company's Learning & Development budget. Reach out to me at info@thehiddenspeaker.com and I am happy to facilitate the process.
Is is it worth the money?
Many other courses on the market are priced lower (or free) and don't offer interactive guidance from an instructor. Other courses are $1500 or even as high as $2500 and not as accessible.
My goal is to make this course a steal: a straight-shot way to learn the presentation skills invaluable to your career for professionals all over the world. Imagine what being a confident public speaker and data storyteller would do for your salary.
---
Next Cohort Begins Jan 11
There are 11 Spots Left
(And Get 100+ Pages of Presentation Tips as a Welcome Gift)
---
Still have questions?
Or Connect with me on

LinkedIn